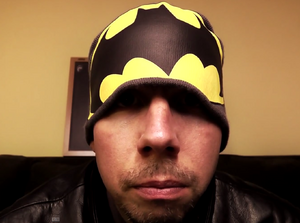 Cool Kids Club Recruiter is a person who goes over the questionnaire with new recruits for the Cool Kids Club. The questions asked are music, movie, comic book, gaming related. His organization is related to the Boy Scouts in some way, and has ties to Chris Crinkle.
Appearance
Edit
Cool Kids Club Recruiter is a man in a leather jacket and wearing a Batman hat.
Personality
Edit
Cool Kids Club Recruiter has a rough gravely voice and is very strict about who is allowed into the club.
Filmography
Edit
The Rules are as follows:
Don't talk about the Cool Kids Club
See Above.
___________
Despite having a deep voice the recruiter still lives with his mother and is fascinated with pre-teen things.
Ad blocker interference detected!
Wikia is a free-to-use site that makes money from advertising. We have a modified experience for viewers using ad blockers

Wikia is not accessible if you've made further modifications. Remove the custom ad blocker rule(s) and the page will load as expected.