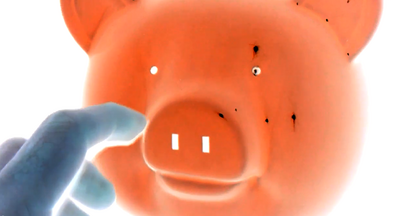 Mr. Piggs is a piggy bank that induces relaxation. Even though it is inanimate, Mr. Piggs is accompanied by a pair of hands that tap and rub this piggy bank.
Appearance
Edit
Mr. Piggs is a standard piggy bank. It appears to be ceramic rather than plastic and is pinkish in color. Along the sides and back there are spotted yellow dots. On the top behind the ears a few inches is a coin slot. It is unclear where the coin removal part is.
Personality
Edit
Mr. Piggs rarely speaks. In the one time that he does he has a deep oink. He appears to be somewhat camera shy. Mr. Piggs dislikes having his nose tapped.
Filmography
Edit
The last video of Mr. Piggs' was recorded using a phone and as a result the sound cuts out 11 minutes in. Rift gave an "Oops" to that.
Ad blocker interference detected!
Wikia is a free-to-use site that makes money from advertising. We have a modified experience for viewers using ad blockers

Wikia is not accessible if you've made further modifications. Remove the custom ad blocker rule(s) and the page will load as expected.