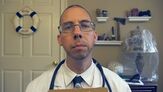 Another theory/plot point is the connection of Professor Clemmons and Resident 333  being the same person. The reasoning behind this is that in one of ER's earlier videos with Clemmons, after his admission to the Sanitarium, shows him repeatedly saying "do you wanna see my cutting mat?" and the Patient 333 video also shows a man who looks exactly like Clemmons making that same statement. We know that the man in "Mr. Clemmons cutting mat" video is in fact Prof. W. E. Clemmons of ER's other videos because it is confirmed in the description. The admission of Prof. Clemmons to the Arkham Sanitarium is also mentioned in Arkham Lost and Found , when the curator speaks about Clemmon's wife Margaret's and their unfortunate accident in the Himalayas which resulted in her death, and his admission to the Sanitarium.
From this information we can conclude that after the accident, Clemmons was admitted to Arkham and around that time was interrogated. (He remembers and relays that experience to the viewer in Mr. Clemmons Cutting Mat) At a later date, the viewer visits the Patient in room 333 who exposes himself to be Clemmons after quite a time with his PTSD, schizophrenia, and other disorders that have gradually gotten worse following the accident. 
Because of this and a few other random plot points in other videos it has become quite clear that a lot of ER's videos are out of sequence and aren't released in chronological order. The patient 333 video was released March 19, 2015 and Visiting Hours with Professor Clemmons , which shows him completely sane and functional, was released after that on June 4, 2015.
Ad blocker interference detected!
Wikia is a free-to-use site that makes money from advertising. We have a modified experience for viewers using ad blockers

Wikia is not accessible if you've made further modifications. Remove the custom ad blocker rule(s) and the page will load as expected.