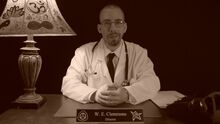 The Clemmons Theory is a theory proposed by the YouTube user chinaboytag, based on Professor Clemmons -The New Arrival . The theory suggests that the rift and all the characters within are the psychological manifestations of PTSD, schizophrenia, and a myriad of other mental disorders compounded with severe social anxiety. Additionally, it suggests that Professor Clemmons is the viewer's therapist and only person with whom the viewer interacts socially. This explains why every character seems to bear his resemblance. Ultimately, the mix and mashed world is thought to be a dystopian convergence of the viewer's interests as well as an expression of the viewer's mental dysfunction. The "rift" can be described as the collapse of the viewer's mental state in a tragic spiral into madness.
Currently, this newly-proposed theory has yet to generate enough publicity to have opposition or to be widely circulated.
Ad blocker interference detected!
Wikia is a free-to-use site that makes money from advertising. We have a modified experience for viewers using ad blockers

Wikia is not accessible if you've made further modifications. Remove the custom ad blocker rule(s) and the page will load as expected.